"Last night, Dec. 16th at 9 p.m. CST, a very bright meteor lit up the completely overcast sky like lightning in southeast Nebraska," reports Trooper Jerry Chab of the Nebraska State Patrol. "It flashed for approximately 2 seconds and was followed by sonic booms and ground shaking, which prompted many calls by the public to law enforcement in a three county wide area." Meanwhile, the USGS says there was a magnitude 3.5 earthquake near Auburn, Nebraska, at 8:53 pm, about the same time and place as the fireball. This map shows the nominal epicenter: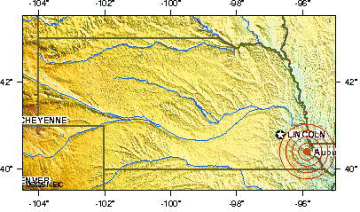 "If the earthquake is confirmed, as it appears to be, I think we have the most cosmic of coincidences: A large fireball around the same time of an earthquake," says Chab. "I am simply amazed!"
One possible interpretation of these events is that a small asteroid hit Earth's atmosphere and caused the ground to shake when it exploded in mid-air. However, the timing might not be right. The quake seems to have preceded the fireball. Several readers have pointed out studies that associate lightning-like phenomena with earthquakes: #1, #2, #3. So, the earthquake might be responsible for both the shaking and the light show. Or it might be a big coincidence just as Chab suggests.
More reports could help sort out the possibilities. Readers in Nebraska with photos or eyewitness accounts are encouraged to submit their observations.